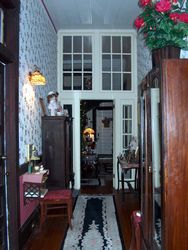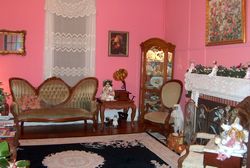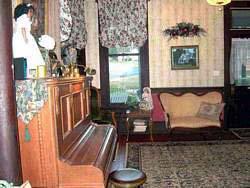 All our air conditioned rooms feature a private bath, luxury linens, wireless hi-speed internet, TV/DVD/VCR , and decorative accents.
Azalea Room (King)

Our Azalea room upstairs features a large
private bathroom
with a claw-foot tub and
large spacious shower.
It is ideal for a
honeymoon suite.
**A twin bed has been added to the room in
"The Bunker"

Hydrangea Room (Queen)

The Hydrangea room is located in a quiet corner downstairs in the house. Enjoy the large tiled shower in your private bath and then retire to your elegant lavender room to relax with a good book or a movie from our large collection. This room offers high speed internet.

Hibiscus Room (King)

Enjoy our Hibiscus room upstairs for a quiet get away that features high speed internet and a sitting area to watch TV or view a movie. Don't be surprised if you find a hummingbird among the flowers surrounding your bed.

Rose Room (Queen)

The Rose room downstairs is our most traditional Victorian room featuring a comfortable four poster bed with
a patchwork quilt.
A Day Bed allows for an extra person
in this room.
The original owners of this house would be amazed to find that this room has high speed internet access.