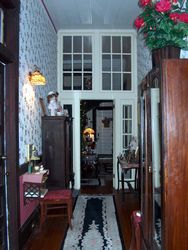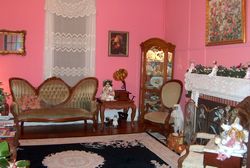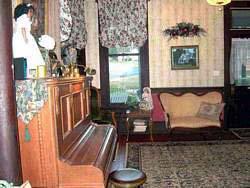 The Camellia House
(Formerly known as
the Douglass House)

The Douglass Family
Frazier M. Douglass moved his cottonseed oil mill from Alexander City in northeast Alabama to Luverne in 1904. In the same year, he completed building the two-story house on the corner of South Forest Avenue and Ninth Street for his family.
The house, built in the Queen Anne Victorian style by local carpenters, was a replica of his home in Alexander City, with the exception of one story. His home in Alexander City had three stories.
| | |
| --- | --- |
| | |
| The Original House in Alexander City | The Luverne House |
The house in Luverne was the first house in Alabama that utilized whole house heating by using a large coal burning furnace under the house. This furnace while no longer in use, still occupies a large space in the cellar. Features of the original house are a cross-gabled roof, two story tower, and a wrap around porch. The first floor of the house consisted of an entrance hall, library, dining room, kitchen, two bedrooms with baths, a parlor, living room, and a flower house with a gazebo top on the front porch.
The upper level had 5 bedrooms, 1 bath, and a tower room.
Very few alterations have been made to the house since it was built almost a hundred years ago.
In June, 1995, the house was entered into the Register of Historical Landmarks and Heritage in Alabama by the Alabama Historical Commission.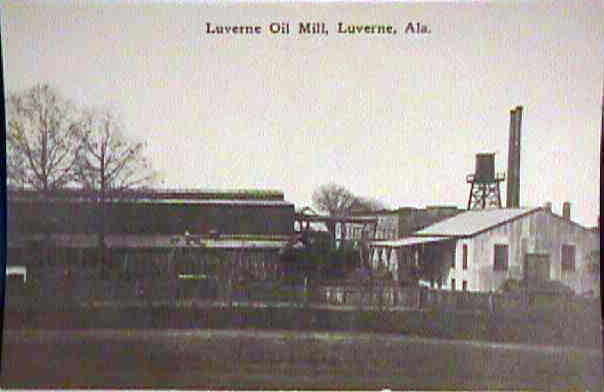 The Douglass Oil Mill was built on the lot north of the home-site. It closed in the early 1930's.
Douglass died from injuries sustained in an accident while moving the boiler from the mill in 1937. After the death of Douglass, his daughter, Mrs. Lila Douglass Fundaburk, her husband, Albert D. Fundaburk and their two daughters moved into the home with her mother, Georgia Emma Douglass. "Miss Georgia" died in the 1940's and members of the family continued to live in the home. Douglass' granddaughter Emma Lila Fundaburk lived in the house until 1998 when she sold the house to Dr. Alys Hayden. Dr. Hayden had dreams of restoring the house and starting a bed and breakfast, but a job transfer to northern Alabama in 2002 prohibited her from completing her dream.
Kathy and Tim Dowdy bought the house from Dr. Hayden in 2003, and completed the renovations by remodeling the kitchen and all bathrooms, as well as adding a complete bath upstairs, and a powder room downstairs. Kathy is a retired school music teacher from DeKalb County, Georgia and her husband Tim is a computer support specialist. They are both accomplished musicians and enjoy music, reading, cooking, and gardening.